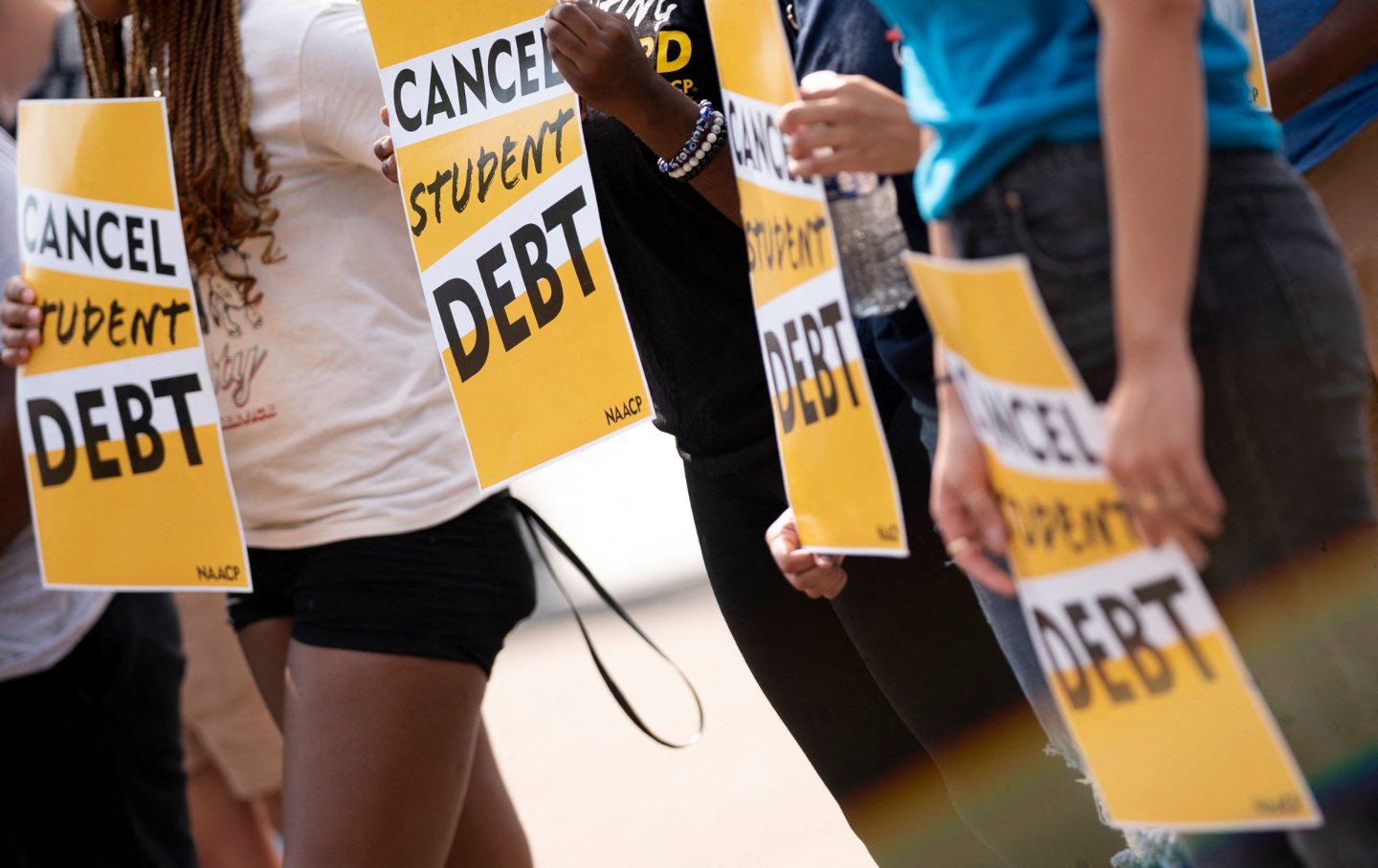 Activists gather to rally in front of the White House in Washington, D.C, on August 25, 2022. (Stefani Reynolds / Getty)
When policy-makers and advocates talk about uplifting minority communities, the concerns of Asian American and Pacific Islander communities are often left out of the discussion—especially when critiquing our current student debt system. Part of this can be tied to the "model minority" myth—a harmful stereotype that assumes widespread socioeconomic success and high achievements for the AAPI population.
Research shows that the average low-income Asian-American student at a public four-year university has unmet financial need $4,000 greater than the average low-income student. According to Duy Pham at the Center for Law and Social Policy, even though the average income of the highest earning Asian Americans is greater than the average among highest earning whites, the lowest-income Asian Americans are poorer than their low-income white counterparts.
In late February, the Supreme Court will begin hearing oral arguments on the legality of President Biden's student debt cancellation plan, which could free over 40 million Americans from years of crushing payments. Although it is clear that the 2003 Heroes Act and the 1965 Higher Education Act gives the president authority to cancel federal student debt, borrowers of all backgrounds are being held back by activist judges and greedy special interests—which is why it is critical to dismantle the model minority myth and emphasize the importance of broad-based debt cancellation.
The reality is far more complex than is commonly understood. There's still much more work to be done to truly grasp how each individual AAPI group is impacted by student debt. "When all our diverse communities are included in one broad category, we can't see the needs of Asian American, Native Hawaiian, and Pacific Islander communities," wrote Kathy Ko Chin for NBC News. "As community leaders, we strongly believe that [the US Office of Management & Budget] should not only encourage such disaggregation but proactively require it for all federal departments and agencies." Breaking up research data based on AAPI individual communities is essential since it can give a better picture into how Asian Americans are affected by the student loan system, and highlight often invisible Asian groups suffering from crushing student loan debt.
One such group is the Southeast Asian community. While many in the US see Asia as a monolith, there are many cultural, social, and economic differences between the various ethnic groups that can be forgotten with the umbrella term "Asian American." In 2019, Senators Elizabeth Warren, Catherine Cortez Masto, Doug Jones, and Kamala Harris wrote about the need to address racial disparities in student debt. "The Southeast Asian community is often not included in these trends and analyses of students of color because educational outcomes are often obscured in a larger 'Asian' category." Therefore, more thorough, expansive research into all five regions of Asia (South, Southeast, Central, East, Western) is needed before we can adequately address educational reforms going forward.
Southeast Asian immigrants, such as the Hmong, Cambodians, Laotians, and Vietnamese, have markedly low college-going rates. This is especially prevalent in California, the state with the largest Asian-American population. With an unstable budget, it has become difficult for colleges and universities to afford new support programs. Existing services and outreach have largely focused on Black, Hispanic, and low-income students in recent years with the different needs of different Asian American groups flattened into a stereotyped whole. "The reality is these students are increasingly diverse, they're increasingly immigrants, and they're the first in their families to go to college," said Robert Teranishi, a professor of education and Asian-American studies at UCLA. "The data is not really being used in a way that is helpful to institutions or informing their efforts."
When the AAPI community spoke out with the "Stop Asian Hate" campaign, an entire movement formed to help protect our communities. Unfortunately, in higher education, Asian American political participation is often less heard. Having prominent groups like the National Council of Asian Pacific Americans (NCAPA)—which represents over 38 AAPI groups—work closely with other civil rights organizations like the NAACP is one viable way forward in advancing the needs of all communities fighting for student debt cancellation.
Ultimately, if we are to upend the understanding of Asians as a monolith, organizers will need to boost the voices of Asian Americans benefiting from debt cancellation, while researchers disaggregate student debt studies to highlight specific information for radically different Asian groups of students. This is more important now than ever before. With broad-based student debt cancellation in the hands of the Supreme Court—and other critical reforms on the horizon—it is essential that the benefits of student loan cancellation for AAPI groups are highlighted in the national discussion.