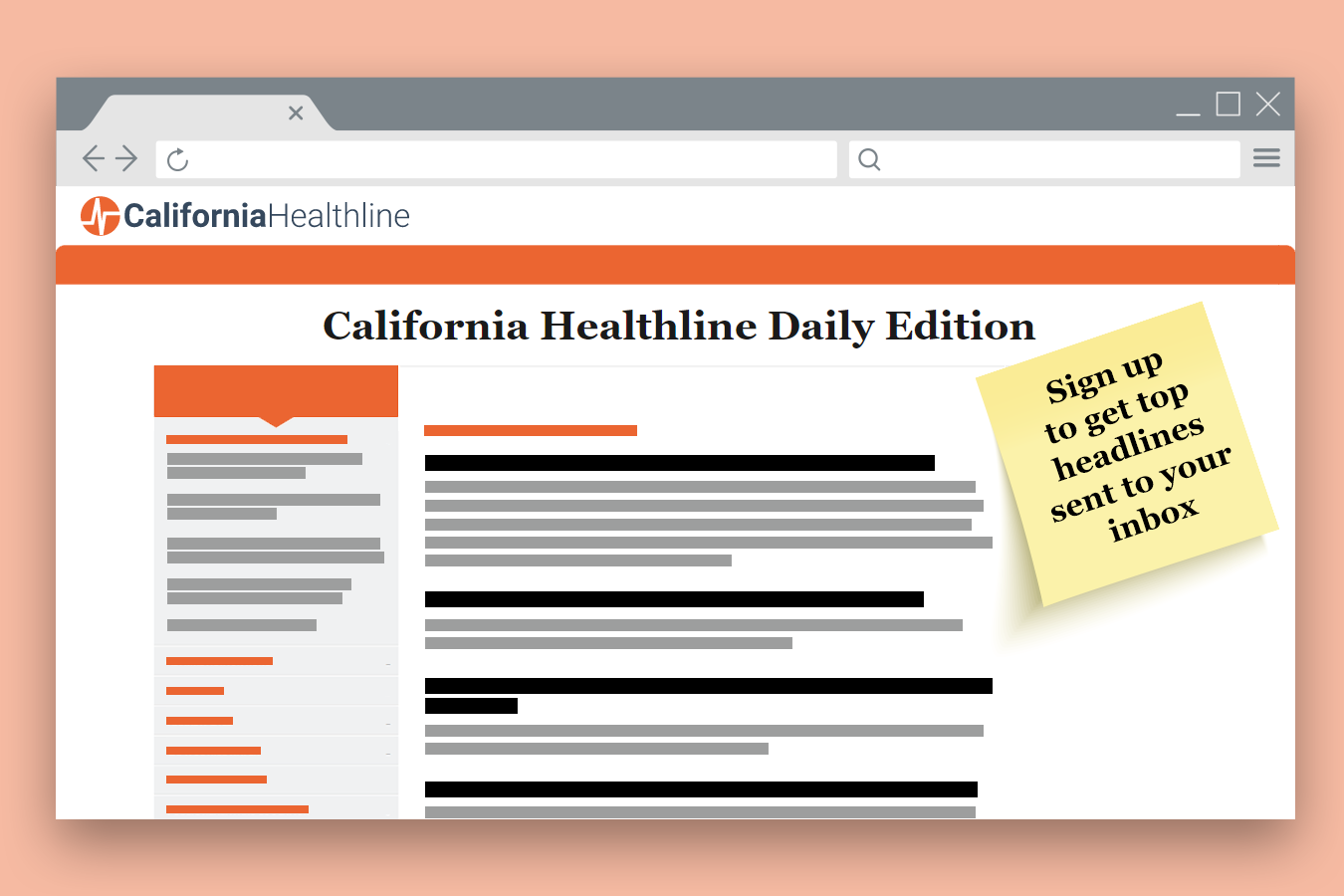 San Jose Approves Booster Shot Requirement: San Jose is about to become the largest city in California to require all of its employees to get a booster shot. The City Council also adopted a new ordinance requiring visitors of large, indoor events held at public facilities such as the San Jose Convention Center to show proof they received a booster shot — or submit a negative covid test — before entering. Read more from the Bay Area News Group.
Blood Shortage Prompts Shutdown At LA Trauma Center: Blood shortages forced the Los Angeles County Department of Health Services to shut down one of its trauma centers to new patients for hours earlier this week — a step it had not taken in over three decades, officials  said Wednesday. Read more from the Los Angeles Times. Scroll down for more coverage of the blood shortage.
Below, check out the roundup of California Healthline's coverage. For today's national health news, read KHN's Morning Briefing.
The (Santa Rosa) Press Democrat: Sonoma County Officials Make Aggressive Plea For New COVID-19 Health Order Banning Large Gatherings
Citing a staggering wave of COVID-19 infections, Sonoma County elected and public health officials on Wednesday urged residents to adhere to a new local health order that prohibits large public indoor and outdoor gatherings. The order, which took effect at 12:01 a.m. Wednesday and remains in effect for 30 days, bans indoor gatherings of 50 or more people and outdoor events of 100 or more people. (Espinoza, 1/12)
San Francisco Chronicle: Sonoma County's New COVID Restrictions Take Effect Today. Here's How It's Going
Sonoma County's new 30-day pandemic ban on large gatherings, a bid to stem the omicron variant's rapid spread, has shaken up the schedules of event and wedding venues, theaters and wineries countywide. But many said they were coping with the measures, with the timing — during the slower winter season — working in their favor. (Hwang, 1/12)
CalMatters: California Shutdown: COVID Forces State To The Edge
Starting today, Sonoma County is banning large gatherings for the next month. Los Angeles County on Tuesday urged residents to postpone nonessential gatherings and avoid some activities. The state prison system on Saturday suspended in-person visits as COVID surges among employees and inmates. A growing number of hospitals are cancelling or postponing certain surgeries. Sound familiar? (Hoeven, 1/12)
Bay Area News Group: Santa Clara County Restricts Court Access Again For Omicron
The Santa Clara County Superior Court announced Wednesday that it is closing public counters and restricting courthouse entry through the end of the month because of staffing absences driven by the rapidly spreading omicron variant of COVID-19, joining other Bay Area courts that have also been limiting public access. The decision to decrease the public's access to South Bay court facilities is effective through Jan. 31, by which point officials plan to reevaluate whether to rescind or modify the restrictions. (Salonga, 1/12)
Sacramento Bee: California's New Workplace COVID Rules Take Effect On Friday
California's COVID-19 workplace rules are set to change Friday with more stringent requirements taking effect for employee testing and mask-wearing. The new rules from Cal-OSHA come as California struggles to respond to a new wave of omicron variant COVID-19 cases. One of the biggest changes has to do with employees who have to get a COVID-19 test after exposure in the workplace. (1/12)
San Francisco Chronicle: In Omicron Battle, S.F. Updates Mask Guidance, Vaccination Rules For Mega-Events
To get a grip on the omicron COVID surge slamming the city, San Francisco health officials have revised the rules for attending mega-events, updated masking guidance for city residents, and changed the definition of a "close contact. "Per the latest California guidelines, starting Saturday, Jan. 15, the threshold for large events in high-risk settings now includes any gathering of 500 people indoors or more than 5,000 people outside. With that change, there will be tougher entry requirements for such mega-events at San Francisco stadiums or arenas like Chase Center. (Vaziri, 1/12)
CapRadio: Without Guidance From Sacramento County Health Officials, Restaurants Take Individual Approaches To Worker Safety Amid Omicron Surge 
Sacramento county announced last week that they would not be taking extra measures like closing businesses, restricting indoor dining or mandating vaccination status during this surge — leaving business owners to decide on the rules and boundaries of safety on their own. "We continue to monitor the situation … at this point we do not have any steps that we are planning to take. I think it's really important for individuals to again look at their risk and take every measure that they can to protect themselves," said Dr. Olivia Kasirye, Sacramento Public Health Officer, in a press briefing last week. "We are not requiring businesses to do the verifications at this time but definitely businesses can choose to do so." (Mizes-Tan, 1/13)
Southern California News Group: Covid: LA County Reports Highest Single Death Toll In Nearly 4 Months
Los Angeles County reported 39 deaths on Wednesday, Jan. 12, the highest total in nearly four months while new cases jumped above 40,000 once again — yet another reminder that the current winter surge remains a scourge on the Southland. The last time the daily death toll was this high, the Los Angeles County Department of Public Health said Wednesday, was Sept. 22, when the agency reported 41 people had died from the virus. The day before, the county tallied 15 deaths. (Haire, 1/13)
Los Angeles Times: Omicron Brings Fewer Serious Illnesses, But Hospitals Face Stress 
California's healthcare system is expected to face continued stress in coming weeks as the Omicron variant spawns new waves of coronavirus infection, even as new research shows the latest phase of the pandemic is producing significantly less severe illness. Officials say they are focusing on protecting hospital operations, which are facing severe staffing shortages as workers get infected, but they hope the system can withstand Omicron. They continue to urge people to do all they can to avoid getting infected. (Money, Lin II and Alpert Reyes, 1/13)
Los Angeles Times: Omicron Sends Hospitals Into Overdrive With Sick Staff, Dying Patients And Doctors "Just Scraping By" 
On a single day this week, 616 staffers called out sick with COVID-19 at Tufts Medical Center in Boston. Without nearly a tenth of its workers — doctors, nurses, administrators and janitors — the hospital assigned the National Guard to help with an unrelenting swarm of patients, many of them critically ill. Such scenes around the nation have been brutal as the highly transmissible — if less deadly — Omicron variant has set a record of nearly 2 million infection cases each week. That surge has battered healthcare systems, sapped the morale of doctors and nurses, delayed thousands of surgeries, postponed treatments for life-threatening diseases such as cancer and turned hospitals into around-the-clock triage centers where nerves bristle and anger echoes alongside despair. (Kaleem and Baumgaertner, 1/13)
Capital & Main: California Health Workers Sound Alarm Over 'Ridiculous' New COVID Guidance
On the first weekend in January, Rochielle Jocson's worst-case scenario became a reality. After nearly two years of working on the front lines of the pandemic, Jocson, a registered nurse in the San Diego suburb of National City, tested positive for COVID-19. Within a day, her husband, two teenage children and elderly mother tested positive as well, despite all being vaccinated and boosted. But Jocson's biggest shock was yet to come. That was when she learned that, as long as she was not displaying symptoms of her infection, she might be required to return immediately to her job at Paradise Valley Hospital — a COVID-positive nurse working in close contact with patients and professional colleagues. (Kreidler, 1/12)
Sacramento Bee: Map Of Sacramento Hospital Capacity In COVID Omicron Surge
As the COVID-19 omicron variant takes hold of the Sacramento region, hospital data show many local health care centers are filling up. Sacramento County reached a total of 464 COVID-19 hospitalizations as of Wednesday, an increase of 38 in one day, according to the California Department of Public Health. As of Wednesday, the county had 89 ICU cases, according to its COVID dashboard. (Taylor, 1/12)
Modesto Bee: Map Of Modesto-Area Hospital Capacity In COVID Omicron Surge
As the COVID-19 omicron variant takes hold across the country, data show health care centers in Stanislaus County are filling up but there are still available hospital beds. Stanislaus County had 192 hospitalizations as of Wednesday, according to the California Department of Public Health. There were 30 ICU beds left, five fewer than Tuesday, according to the state. (Taylor, 1/12)
VC Star: Omicron Surge Continues At Record-Breaking Pace In Ventura County
Ventura County's COVID-19 infection rate soared again Wednesday, continuing a dizzying pace and easily surpassing the record set a year ago. (Kisken, 1/12)
CalMatters: COVID Cases Triple In California Juvenile Prisons 
COVID-19 cases among California's incarcerated youth have tripled since last week, and at least one youth recently was admitted to a community hospital after experiencing serious symptoms, according to an internal agency email obtained by CalMatters. While the California Department of Corrections and Rehabilitation consistently tracks and routinely releases data on COVID-19 inside adult prisons, the same detailed disclosures are not made for those in the juvenile prison population. (Lyons, 1/12)
Orange County Register: County Social Service Workers Urge Action After COVID-19 Outbreaks
Workers in Orange County's Social Services department are again sounding the alarm about COVID-19 outbreaks among staff and are asking county executives to implement changes to protect their health. Last summer, some Social Services employees spoke publicly about concerns the department was lax about requiring masks and social distancing and that they were ordered back to offices when it was still unsafe. With about 4,200 workers, Social Services is one of the county's largest departments, and the nature of its work – helping people apply for food assistance and health care, for instance – puts them in regular contact with the public. (Robinson, 1/12)
San Francisco Chronicle: Here's What S.F.'s Omicron Surge Would Look Like If It Followed The Trajectories Of Other Major Cities
If San Francisco were to follow the same omicron trajectory of several major cities that started their surges earlier, its coronavirus case rate would almost double over the next two weeks, a Chronicle analysis showed, even though current case rates are already breaking records almost daily. The analysis illustrates just one of several ways the omicron surge could play out in San Francisco, but uses other cities' experiences as a framework for understanding what might happen. Distinctive characteristics of the city, like its unusually high vaccination rate and mild weather could mean a less extreme outcome. (Echeverria and Sumida, 1/12)
KQED: 'It Just Takes A Hit On The Morale': How A UCSF Respiratory Therapist Takes On The Omicron Surge
Now almost two years into the pandemic, many health care workers are tired. In some cases, they're dealing with long days as colleagues call in sick. Just in San Francisco, case rates reached record highs, with over 1,200 people a day on average testing positive, according to Dr. Grant Colfax, the city's public health director. "From access to testing, to frontline staffing to first responders and hospital staff being out due to infections or exposures, to higher numbers of people in the hospital, we are in the middle of the worst of this omicron surge," he said during a news conference Tuesday. (Gonzalez, Watt and Goldberg, 1/12)
ABC News: Study Finds COVID-19 May Increase Risk Of Diabetes In Kids
Kids who have recovered from COVID-19 may have an increased risk of developing diabetes, according to a new study from the Centers for Disease Control and Prevention. The study, which looked at databases with information for over 2.5 million patients under 18, found that children diagnosed with COVID-19 were about 2.5 times more likely to receive a new diabetes diagnosis a month or more after infection. (Kindelan, 1/12)
The Hill: Walensky Says CDC Mask Recommendation Will Not Change
Rochelle Walensky, the head of the Centers for Disease Control and Prevention (CDC), said Wednesday that it does not plan to change its mask guidance to advise Americans to wear higher quality masks amid the omicron surge. The CDC director said during a White House briefing that her agency currently recommends that "any mask is better than no mask" to battle the ongoing coronavirus pandemic. (Coleman, 1/12)
KPBS: San Diego Doctors Continue Fight Against COVID-19 Misinformation As Omicron Surges
COVID-19 cases are surging like never before and so is misinformation, which is forcing county officials and physicians to continue their frustrating fight to provide people with the facts of the pandemic. "It's just not true, it's not true," said San Diego County's Chief Medical Officer Dr. Eric McDonald responding to public comments regarding children made during Tuesday's board of supervisors meeting. (Hoffman, 1/12)
CalMatters: California Sick Leave: Will Extra COVID Days Return?
Labor unions and their Democratic allies in the Legislature want to bring back extra paid sick leave for COVID-19. Gov. Gavin Newsom is also proposing to revive supplemental leave in his budget. But as with so much else in the pandemic, it's not a simple proposition. (Kamal, 1/12)
Los Angeles Times: Why Your Boss Wants You Back In The Office Despite COVID 
Bosses are recommitting to their company offices even as Omicron is extending the remote working trend that has kept many of their workers laboring at home since COVID-19 erupted in early 2020. In a sign that leaders still put a priority on togetherness, office leasing in Los Angeles County finished the year in positive territory after falling during most of the pandemic. (Vincent, 1/12)
San Francisco Chronicle: S.F. Expects 15% Of Office Workers To Stay Remote Permanently. How Much Will It Affect The Economy?
San Francisco officials predict that around 15% of office workers will stay remote when the economy is expected to stabilize in 2023, a major shift that would permanently hurt business tax revenue, according to a report released Wednesday. With many offices staying empty, business tax revenue is expected to grow a modest 1% from $957.1 million in the current fiscal year to $966.9 million in the next fiscal year, starting in July. Revenue is expected to top $1 billion in each of the next three years, higher than the pre-pandemic peak of $917.8 million in the 2018-19 fiscal year and much higher than the pandemic low of $722.6 million in the past fiscal year. (Li, 1/12)
Los Angeles Times: Big Bear Feels The Strain Of Busy Season Amid Omicron Surge 
Mountain resort areas like Big Bear have long been vacation or day-trip destinations for Southern Californians, but during the pandemic and an early winter of healthy snowfall, the number of visitors has spiked, as people seek activities that still allow for social distancing and other safety measures to avoid infection, officials and businesses owners said. Yet while the influx of visitors bodes well for the local economy, it has strained the Bear Valley's infrastructure and workforce. Throughout this winter season and last, residents, workers and business owners in Big Bear have dealt with increased exposure to the coronavirus, understaffing, shortages of essential services, housing shortages, traffic and parking congestion, and litter. (Valdez, 1/13)
VC Star: National Guard Deployed To COVID-19 Test Sites In Ventura County
California National Guard troops began working at inundated COVID-19 test sites and patients continued waiting for beds at area hospitals Tuesday as Ventura County's omicron surge kept rising at a record pace. County public health officials said teams of three or four National guard members were assigned to help staff four area test sites starting Tuesday as part of a statewide deployment. (Kisken, 1/11)
Los Angeles Times: Families Struggle To Get COVID Tests To Visit Nursing Homes
Facing a massive surge in coronavirus cases driven by the Omicron variant, California recently tightened the rules for visiting people in nursing homes, senior residential and other care facilities. Late last month, as coronavirus cases were skyrocketing, the state declared that nursing homes and other care facilities must require a negative test for COVID-19 for visitors — even for outdoor visits. The new rules went into effect on Jan. 7 and will continue for at least a month. Under the state order, visitors must provide a negative result from a PCR test taken within two days or an antigen test done within a single day of their visit. (Alpert Reyes, 1/12)
The Washington Post: Amid Covid Test Shortage, Corporate Employees Get Them Free 
Workers at corporate giants such as Google and JPMorgan Chase can request tests be sent to them free. At Google, employees can receive as many as 20 tests per month, even if they're not going into the office. Delta Air Lines allows its flight staff and corporate employees to order sets of six antigen tests every three weeks. (De Vynck and Bogage, 1/13)
San Francisco Chronicle: Home COVID Testing Becomes Critical Part Of Pandemic Response
With Bay Area coronavirus testing sites facing unprecedented demand and staffing shortages, state and local officials are racing to distribute tens of thousands of home antigen tests to schools, nursing homes and hospitals. Federal officials promise more are on the way. The push for test kits marks a shift by officials to rely increasingly on self-administered testing — which is less sensitive than lab-based evaluations but also cheaper and faster — to help manage the pandemic. (Ho, 1/12)
CBS News: How Will I Be Reimbursed For Rapid COVID Tests? And Other FAQs 
Will I automatically be reimbursed the full amount? It depends. Under the guidelines, the Biden administration encourages private insurers to make tests available to members for free at the point of purchase by creating networks of preferred retailers, including pharmacies. Insurers would then reimburse the retailer, rather than the consumer, for the cost of the test. (Cerullo, 1/12)
San Francisco Chronicle: Judge Blocks New California Law Limiting Vaccine Site Protests
A recent state law that prohibits protesters from coming within 30 feet of vaccination clinics to harass or obstruct those seeking to enter has been blocked by a federal magistrate, who said it violates free speech. The legislation, SB742 by Sen. Richard Pan, D-Sacramento, was signed by Gov. Gavin Newsom on Oct. 8, 2021, and took effect immediately. Pan, a physician, introduced the bill after protests last year briefly shut down a mass coronavirus vaccination site at Dodger Stadium in Los Angeles, and said it was needed to protect patients and health care workers. (Egelko, 1/12)
Sacramento Bee: Two Sacramento-Area Rite Aids To Offer Walk-In COVID-19 Shots
Amid an explosion of COVID-19 cases, Rite Aid announced this week that it will be offering family immunization days at two of its Sacramento-area locations, allowing residents to get the COVID-19 vaccines or boosters without making an appointment. Rite Aid's family immunization days will be 2 p.m. to pharmacy close today (Wednesday), Jan. 19 and Jan. 26, plus 10 a.m. to 3 p.m. on Saturday and Jan. 22, at both 446 Roseville Square in Roseville and at 1730 Watt Ave. in Sacramento. The company has previously offered the vaccines and booster only by appointment. (Anderson, 1/12)
Politico: California Official: Schools Can Return To Distance Learning Due To Staff Shortages
Schools faced with the prospect of closing due to Covid-related staffing shortages and student outbreaks can shift students to temporary remote learning programs, the California Department of Education said Wednesday. "It is within the law for them to switch to independent study," Mary Nicely, chief deputy superintendent of public instruction, said in an interview. "And so we'd actually probably prefer that over actual school closures for staffing shortages." (Nieves, 1/12)
San Francisco Chronicle: Oakland Schools Brace For Another Teacher Sickout As Students Threaten To Walkout Next Week
Oakland schools are bracing for another teacher sickout less than a week after a group of teachers forced the closure of 12 campuses by calling in sick to protest working conditions during the region's omicron surge. The district was already grappling with educators who were out due to COVID and a shortage of substitutes. Some students are also expected to call in sick Thursday and circulated an online petition last week threatening to go on "strike" by not going to school starting next week if the district did not meet safety demands similar to those laid out by teachers. (Cano, 1/12)
Bay Area News Group: Palo Alto Schools Recruit Parents For Support As Teachers, Other Staff Call In Sick Amid Omicron Surge
Instead of going home after dropping off her daughter at El Carmelo School on Wednesday morning, Delmey Walker stuck around to help test students for COVID-19 and keep them from getting too rowdy in the library. Walker, a mother of two students in the Palo Alto Unified School District, was among hundreds of parents who have answered the call to join a unique new program — "1 Palo Alto" — that district administrators hope will prevent schools from shutting their doors again as the omicron variant continues to raise fears that spring 2022 might be a lot like 2020. (Toledo, 1/12)
KPBS: San Diego Unified COVID-19 Vaccine Mandate On Hold Until Further Notice 
The San Diego Unified School District cannot enforce its highly promoted COVID-19 vaccination mandate. It is on hold until further notice. At the moment, the district's attorneys are working on their appeal to last week's legal setback following a ruling by by a San Diego County judge. The judge reiterated that the district cannot enforce a mandate requiring eligible students 16 and up to be fully vaccinated. In December, the judge ruled that the county's largest school district does not have legal authority to do that, and it is only the state legislature that can approve a requirement. (Perez, 1/12)
City News Service: 20 LAUSD Law Enforcement Employees Sue Over Mandatory Vaccine Mandate 
Twenty school law enforcement officers are suing Los Angeles Unified, alleging they were either wrongfully fired or face termination despite filing for exemptions to the district's mandatory employee coronavirus vaccination mandate. The plaintiffs in the Los Angeles Superior Court lawsuit brought Monday are a mix of school safety officers, police officers, police detectives, senior police officers, a lieutenant, a sergeant and a school safety officer sergeant. The plaintiffs seek compensatory damages as well as reinstatement to their previous positions if they were fired. (1/12)
Modesto Bee: What We Know About How COVID Surge Affects Stanislaus Teams 
As the school year picks back up after the holiday break, sports have been heavily affected by the recent surge in COVID-19 cases, as games have been canceled and teams move in and out of protocols across the country. There also has been a lot of movement among sports teams in the Stanislaus District. Here is what we know. (Hamilton, 1/12)
Monterey Herald: CSU Monterey Bay To Move Forward With In-Person Instruction
While more than half of all California State Universities have announced plans to begin their spring semesters virtually, CSU Monterey Bay will move forward with in-person instruction. CSUMB President Eduardo Ochoa announced Tuesday morning the college will resume the new term as scheduled on Jan. 24, bringing students back for face-to-face classes. (Kenny, 1/13)
Sacramento Bee: Assembly GOP Lawmakers Call For Single-Payer Bill Cost Estimate 
Assembly Rules Committee Chair Ken Cooley and Vice Chair Jordan Cunningham have issued a letter to Gabriel Petek, of the Legislative Analyst's Office, calling on Petek to conduct prepare a comprehensive fiscal analysis of AB 1400 and ACA 11, which together would create and fund a single-payer health care system in California. The letter from Cooley and Cunningham comes at the request of Assembly Republicans, who drafted a letter to Cooley, a Democrat, making a formal written request for a fiscal analysis of the two bills. (Sheeler, 1/13)
Los Angeles Times:  California Single Payer Healthcare Has Uphill Climb 
A contentious single-payer universal healthcare bill has cleared its first hurdle — but because of political courtesy, not policy accord. It seems to face a very bumpy road ahead that, at this juncture, looks to be probably impassable. One obstacle for the Democratic measure is lack of support from Gov. Gavin Newsom. (Skelton, 1/13)
AP: California Sues 'Sharing Ministry' Health Insurance Plan 
California on Wednesday sued what the state's attorney general called a sham health insurance company operating as a "health care sharing ministry" — one the state claims illegally denied members benefits while retaining as much as 84% of their payments. The lawsuit names The Aliera Companies and the Moses family, which founded Sharity Ministries Inc. Sharity, formerly known as Trinity Healthshare Inc., is a nonprofit corporation. (Thompson, 1/12)
San Diego Union-Tribune: Blood Shortage Reaches Crisis Levels In San Diego 
Blood supplies at San Diego County's busiest trauma centers are so critically low that many worry it won't be long before someone dies because there were not enough units left on the shelf. "If we have one mass-casualty incident in San Diego with the blood supply as low as it is right now, lives will be lost, and that will be heartbreaking," said Dr. Ghazala Sharieff, chief medical officer at Scripps Health. (Sisson, 1/12)
The Wall Street Journal: Red Cross, Facing Blood Shortage, Offers Donors Chance To Win Super Bowl 2022 Tickets
"This crisis is so severe that we are having to limit the amount of blood that can be sent to hospitals," said Emily Coberly, Red Cross divisional medical officer…. The nonprofit hopes to entice donors by entering those who give blood in January into a drawing to win tickets to Super Bowl LVI in Los Angeles next month. January donors will also get a chance to win a home-theater package for the game. (Prang, 1/12)
Sacramento Bee: Placer 911 Callers Can Now Send A Text Message In Emergency 
Placer County residents or visitors traveling through the area can now send text messages to 911 during emergencies when callers are unable to speak to dispatchers on the phone. The new text messaging function gives hearing and speech-impaired residents the ability to communicate with dispatchers, the Placer County Sheriff's Office announced Wednesday on social media. (Ahumada, 1/12)
The Wall Street Journal: Theranos Founder Elizabeth Holmes Faces September Sentencing 
A federal judge has scheduled a late-September sentencing date for Theranos Inc. founder Elizabeth Holmes, when she could be handed prison time after her fraud conviction. The Wednesday order from U.S. District Judge Edward Davila comes just over a week after a jury convicted Ms. Holmes of one count of conspiracy to commit wire fraud and three counts of wire fraud for intentionally deceiving investors about her now-defunct blood-testing startup. (Randazzo and Somerville, 1/12)
CapRadio: ​​Sacramento County Bans Flavored Tobacco Products, Including E-Cigarettes And Menthol 
Following an hours-long debate and public discussion Tuesday night, the Sacramento County Board of Supervisors voted to ban flavored tobacco sales — including menthol. Here's what's banned beginning July 2022: candy-flavored e-cigarettes, hookah tobacco, menthol cigarettes, and sweet cigars often used to smoke cannabis. The new law only affects sales within unincorporated areas of the county. The city of Sacramento enacted a similar ban two years ago, and Elk Grove did the same last year. Other cities within the county would have to create their own laws against flavored tobacco. (Caiola, 1/12)
KQED: Survey Finds 'Grim' Results For California Kids' Well-Being 
The COVID pandemic, wildfires, economic uncertainty and persistent racial injustices have upended nearly every aspect of children's lives in California, according to one of the first comprehensive surveys of young people's overall well-being since the pandemic began. The 2022 California Children's Report Card, released Wednesday by the Oakland-based research and advocacy organization Children Now, offers a glimpse into the struggles — and victories — children have experienced as the pandemic approaches the end of its second year. Education, child care, physical and mental health, homelessness, poverty, juvenile justice and food security are among the topics explored in the report, which issues A through F letter grades based on data and state policies. (Jones, 1/12)
Los Angeles Times: Nearly A Third Of Asians In San Gabriel Valley Report Experiencing Racism During The Pandemic 
Nearly a third of Asian Americans in the San Gabriel Valley said they or their family members have experienced anti-Asian hate during the COVID-19 pandemic, with most incidents involving verbal attacks, a new survey found. Nearly half of those surveyed said they feel less safe than before the pandemic, and the majority said they are more "vigilant and defensive" when they leave home, according to the survey released Wednesday by the Asian Youth Center and Asian Americans Advancing Justice-Los Angeles. (Do, 1/13)
CapRadio: Sacramento's Much-Coveted Housing Voucher Waitlist Is Open. Here's How To Apply
A Sacramento program that's been compared to a slow-moving lottery for subsidized housing vouchers will open its waitlist this week for the first time in three years. The chances, however, of getting a spot and eventually a voucher remain slim. Income-qualified individuals and families can apply for the chance to receive one of 5,000 spots on the Housing Choice voucher program waitlist, which closes Jan. 26. (Nichols, 1/12)
AP: Newsom Rejects Claims His Homelessness Plan Isn't Working 
Gov. Gavin Newsom on Wednesday rejected claims by the sheriff of California's most populous county that record spending on homelessness initiatives isn't putting a dent in the problem of people living in the streets and the state isn't held accountable for where the billions of dollars go. Los Angeles County Sheriff Alex Villanueva criticized Newsom's announcement this week that he would add $2 billion under his latest budget proposal to an existing $12 billion plan to reduce the number of homeless Californians. (Weber and Watson, 1/13)